Saturday, December 31, 2005
new year
new year, new skin =)
Friday, December 30, 2005

REALIZATION
i was playing basketball in my Taman's court yesterday evening...
not many players showed up as it rained before and sure enough the court was half wet.
so the only people in that court were kids from the neighbourhood.
typical. kids that i will normally dislike and get annoyed easily.
these kids play with each other really often... their best friends and enemies are all consist of the same group.
small neighbourhood i guess.
so yea, i was playing a nonsense game of basketball (everyone was just fooling around in the wet court) with the kids.
at first, i thought that "man, this is so stupid! why are all of them so happy ?! throwing the ball every direction, chasing the ball like crazy people... so pointless!"
but then... i finally realize. i was like them once. my small neighbourhood... i was one of the kids that some times came to the court and do silly stuff with friends.
they were contented with what they had (not materialistic) ,with the people they mixed around (no clique bullshit), and what they did/do.
in KL, kids (from what i see in churches)... these are the things that matters to most of them.
stucked in between the best of both worlds again? or place. hehe
man... i miss KL!
Thursday, December 29, 2005

LOST
i have made up my mind.
I have chosen Victoria University for my 1st year.
V U is not my favourite pic (one of my last resort actually)... but it is for my own good.
since i don't think i can cope with Monash standards and the competition between students there.
the only suitable option left for me is VU. there is a 'high hope' that i could be transfered to Monash 2nd year if i do really well in VU the first year. again- 'high hope'...
Tuesday, December 27, 2005

Results are out.
my final TER is 69.25.
you might want to ask..."what's up with that?!" - my answer could only be " Beats me!"
subjects that i could/did score, the marks got scaled down- BIG TIME.
subjects that i am weak in, was - OBVIOUS.
not to sound cynical, BUT... its as if whatever i
was
thankful for 2005 seems almost meaningless because not being able to achieve what i want (purpose in college).
it's hard to bare knowing my goal to enter either monash or sunway are both mere foolish ' high hopes'.
it's even worst to think that i might belong here. being the typical useless dude in this shit hole- tawau.
most of my friends are relieved and satisfied with what they've got... that's just make my situation even worst doesn't it?
there are no words to describe one's feeling when they deserve to be patronized. When someone fail to prove themselves- is there an inverted ' IN YOUR FACE!!! ' expression?
because that are the emotions that are going through my whole body and weakened spirit.
Sunday, December 25, 2005

THANK YOU 2005~!!!
yea yea. another week till the new year.
but not much is going to happen as i will be spending those few dayz in Tawau.
i have been blessed this year.
~for the time i spent with God knowing him better
for the friends i made.
for the course i studied.
for the time i spent with my family
and for lessons i've learned.
As i am still moving slowly to pack my stuff...
thinking about home. i think it's gonna be fun. seeing what have changed (or not) to Tawau this year... its been a while since i went back.
1 month in Tawau.
plans... plans...activities... i need loadz of 'em to kill my time there.
first week shall be fun. the next will be dreadful.- this i know!... oh how well i know. lol
i am planning to... stay healthy and start the habit of reading. haha (simple task~ not!) haha.
new year resolutions... pointless don't you think?~ i think so too ... hehe.
happy new year!
Saturday, December 24, 2005
trying out 'photography'
Hehe, here are some of my favourite shots that i took in beijing.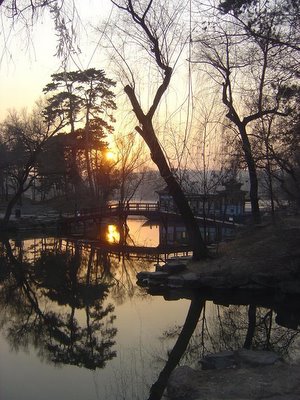 back
it's christmas! wee~
i just came back from China 2 days ago. It was awsome... hopefully can upload some pictures real soon.
I'm going back to Sabah tomorrow. and believe me, I am not jumping with excitement at the moment.
last night, i watched Narnia with my brother Kenneth (Mom and Dad couldn't wait for me and him...bro working/ i was in Port Dickson, so they went ahead without me).
so yea, i loved the show. Though i didn't think the casting was good enough. The girls were not cute enough! Emma Watson... no sister meh?? haha!
anyways, took a cab home around 11.50 last night. Sunway area were in a mess. Celebration it seems. .. .. Rubbish! celebrating nothing! It was like a party for Ah Beng and Ah Lian to wear a stupid christmas hat and spraying each other with party sprays. pointless~
anyways. ITs christmas! today shall be a great day. for u and me! happy holidays!
Thursday, December 15, 2005
appologies
i'm at the singapore international airport now. will be boarding to Beijing in another half an hour time. i won't be updating this blog until end of next week.
i'm relieve to say... the singapore custom didn't hold me from entering Singapore (bad experience last time, imagine me being 15-16 year old and brought into one of their office to be checked).
anyways. God Bless!
Tuesday, December 13, 2005
encounter
i just came back from port dickson for a youth camp.
didn't really expect much this time around because of the dissapointment of the last camp i went.
i wanted a ZAP from the holy ghost and didn't feel anything- got a little depress after that.
Bro told me that 'feeling' is not that important. I had to get things right with God and start Obeying him.
ofcoz that didn't go really well, i started doing more worldly stuff and my relationship with God became worst. (felt that we are really Far Apart- and i might be slipping away).
For this camp, my intention was simple. I wanted to get things right with Him. Its been a while since i spent quality time with Him and i'm tired of living a lie.
Definitely one of the better camps i've joined in a a while. :
I finally found someone that i could share my problems with.
I finally found out that i was grieving the holy spirit and was trully living a lie. (submitted those areas to God)
I met loadz of ppl (from China, America, Bangladesh, India, Zimbabwe, Kenya and here).
My ear recovered. yay!
oh yea, the food very little spicy spicy one (awsome!)
Friday, December 09, 2005
not a good day.
first. i lost my hearing (not all of it).
now. i lost my hair. (well, still there but looking like pooh a.k.a shit). haha
i coloured my hair.
u can imagine. i look like a bald orang-hutan which looked like something poohED on it's head.
if i look good, still (to you all)...
its all because of my experience looking like shit after a haircut. So, i guess my skillz in covering up should have improve by now. lol
Thursday, December 08, 2005
deaf.
i am in deep shit.
its 4am now. i just came back from club Rush KL... happening place.
now... i am literally deaf. i ain't tipsy or anything like that, i just can't hear shit. Well, i can hear... but its much softer and there's a flippin annoying beeping sound in my head that won't go way.
guess i'm pretty much screwed up now.
oh. clubbing went well. now i understand why 'those people' consider clubbing (dancing and drinking) as 'FUN' and maybe 'Contentment'...used to think it was dumb.
this is my first time in Club RUSH/ and first time in a techno club (Thursday is RnB night though, but still.. loadz of trance and house music). I enjoyed it because it was impossible to remember or recognize people there (which meant vice versa/no pressure on me...i can be myself). I danced in my own silly/uncool way and enjoyed it.
i have to admit. its nice being shallow once in a while. No deep thoughts... at all.
'house'. how do i describe this music genre? hmm.
Its as if a serial killer was trying to murder someone in a bedroom/ and to prevent neighbours hearing any shouting or suspicious noises... they on the radio (mostly metal) as loud as possible.
same goes for 'house' music. Its as if ...the explosive noise meant "what happens in the club, stays in the club".
one of the worst shit i ever heard. Its one of the bloody reason why i am half-deaf now.
anyways. appreciate my ex-neighbour/ex-classmate - Ho Lap Fei for showing me a freakin' good time.
Wednesday, December 07, 2005
simple day yet feeling great
i stayed at home for the most of today.
watched 2 fantastic movies at home.
first, "Napoleon Dynamite"...the movie that won MTV best movie award last year.
after searching different shopping malls and Dvd shops, i finally found the movie in Sungai Wang.
2nd, "Eternal Sunshine of the Spotless Mind". I never really found the time to watch the whole movie until this evening. I thought it was really well done. 2nd most puzzling movie i've ever watched in my life, 2nd to '21 grams'.
I met up with 2 tawau friends tonight. Nur'i and thomas chia.
we chatted in Asia Cafe from 9pm to 12am. it was really refreshing to catch up with Tawau buddie and escaping the KL life.
Tuesday, December 06, 2005
Blessed
[my long day]
today was my last last day in college.
it was my malaysian studies' exam. me and a few friends went to sungai wang after that.
i has to rush home to avoid the jam, take a bath and accompany my sis to KLPAC (Kuala Lumpur Performing Art Centre) to watch Juliues Caesar in the evening.
It was such a hassle to go sentul. Had to take a cab to KTM . Take a train to Sentul and then another cab from Sentul KTM to KLPAC. Was really hoping my sister and I could make it (back at sunway on time).
the show was below average for me. The lightings and effects were lifeless , the plot was confusing and i couldn't stand Patrick Teo. haha! The performane and sound effects was great though.
anyways, we WALKED to Sentul's KTM after the show (raining). On our way there, a really nice man asked me whether we needed a ride to the KTM or not. So, we decided to hop in to the man's car after a short hesitation. That stranger turned out to be a CIMP lecturer in Sunway and offered to send me and my sister all the way back to my house.
AWSOME!!!. i went like.." erm. i guess that'll be .. Great!".. haha.
blessed! no hassle, not a riggit spent, and i reached home safely. God is certainly Good!. hehe
Monday, December 05, 2005
where do we go from here?
yep.
an all too fermiliar question most Pre- U students might ask themselves.
my answer : clueless.
Thursday, December 01, 2005
this feels great
its been almost a year since i hung out with Ho Lap Fei. (my neighbour, my primary school classmate, my secondary school classmate, and he is studying in sunway college)
well, we've been planning to chill together for quite some time now...
but not 1 time we hung out . Its was always either 1 of us is busy.
today i told him that i wanted to go chill - out of boredom.
so 4 of us (all tawau dudes) played pool in Asia Cafe.
i never felt like this in a really really long time.
i didn't need to act like i know it all...
i didn't need to say anything funny... they were the jokers.
i didn't need to act cool... we were laid back LMF (lazy m'f'cker)
its the first time where i was not concern of being judged. They know me in and out
( ho lap fei was my classmate
since
standard 3- we grew up together )
i could be the 'unnoticed' one ... who gives a crap! i ain't in a flippin clique!
i could have a moment of peace, not thinking about my future and results... we're all born slackers.
for once i could care less whether a person might come up to me and say
" hey vic, i didn't know you were that rude/ that dishonest/ that lazy/ that stupid... you know.. you have to work on your flaws... i am perfect... "
AS IF!
but NOooo, this is just a 1 day thing. tomorrow i'll be entering the Real World. The world where to do well, we must first sacrifice and work our ass off...the world where people knows only to judge and care for themselves.
its 2.20. i don't miss Tawau. the greatest people i know and met are all here...
i miss my home though... its the only place where i get to feel like this everyday. minus the nagging from my mom. heehee.